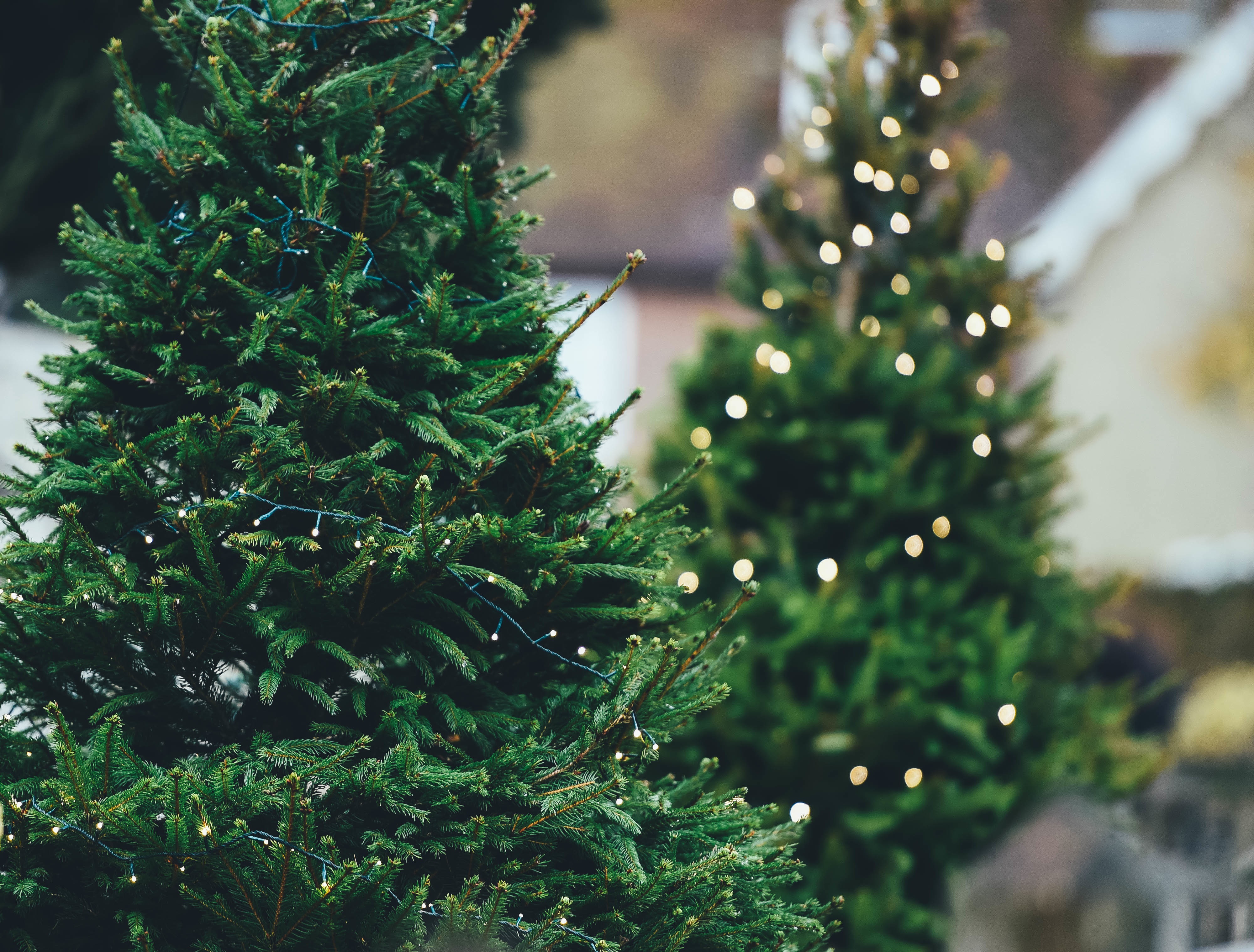 Heading out this weekend to find the perfect tree? For many families it's a treasured holiday tradition, but how do you know which tree will be perfect for showcasing your unique collection of ornaments and lights? If you're like me the, image of Charlie Brown and his poor, scraggly tree is forever burned into your memory. A little research before heading out can save you a lot of time pacing back and forth on the lot trying to figure out what you're getting. Here is a quick run-down of some popular trees and what you can expect when you pull off the twine and let them thaw out, as well as a few of my favorite places to find them.
The Scotch Pine: Typically the most popular and abundant tree on the lot, and for good reason. These boldly colored green trees have a uniform and symmetrical shape that looks great from every angle. Also known for their excellent needle retention, the Scotch Pine makes for easy cleanup come January first. The only drawback to this tree is that the spacing between branches can be a bit small, leaving room for only a moderate amount of decoration.
The Blue Spruce: Another tree with great shape, the Blue Spruce is renowned for it's strong and sturdy branches. A great option for those who have heavy ornaments or like a lot of decorations. While many consider it's blue/silver needles unique and beautiful, it can be a bit of a challenge if your holiday color scheme doesn't match.
The Balsam Fir: If it's a six foot tall air freshener you're looking for, this is what you want. A classic dark green color with a great shape and flexible branches, the Balsam Fir retains it's needles and pleasant aroma for long periods of time.

The Fraser Fir: My personal favorite. The silver and green needles are soft and long lasting. Great for those with small kids or pets who may have a run in with a branch or two. The Fraser Fir also has great spacing allowing ample room for decorations.
Once you've chosen a tree, there are a few things you need to do to keep it looking it's best all through the season. Before bringing it inside, make sure to give the trunk a nice fresh cut off the bottom. It's going to need a lot of water during the first 24 hours as the tree thaws and the branches expand. Make sure to keep an eye on the water reservoir in your stand, because if the bottom stays dry too long it can develop a layer of sap that will prevent it from taking in any more water. It's a good idea to let the tree sit overnight during this phase, and wait until it has thawed before attempting to decorate.
Not sure where to get your tree? Here are a few of my favorite places here in the Twin Cities that you can go.
Krueger's Christmas Tree Farm in Lake Elmo has been growing trees since 1954, and even has a cut-your-own field for those of us who like do DIY.
The Rum River Tree Farm near Anoka is an all day experience with hayrides, pony rides, a petting zoo, and visits from Santa! If you're short on time you can also visit one of their many pre-cut tree lots around the Twin Cities metro area.
The Mill City Farmer's Market in downtown Minneapolis is also a great place to get your tree, along with fresh winter produce from over 40 local farmers, breakfast or lunch from local food vendors, and items for sale from local artists. Shop for all the local produce, meat, cheeses, flowers, and unique hostess gifts for your holiday feasts!

Now brew some cocoa or cider, and head on out there! (Don't forget to bring twine!)